Liveryman Elizabeth Consalvi
  
Remembering our tenacious Court Assistant and Newsletter Editor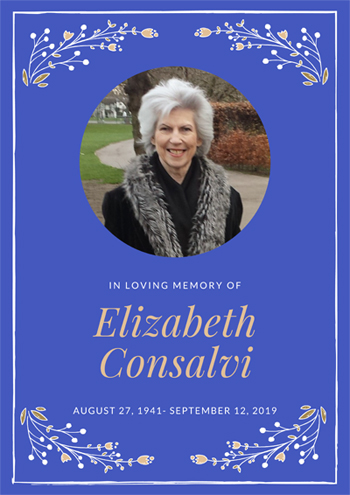 Elizabeth, our friend and colleague, died on Thursday 12th September 2019 after a battle with cancer.
Elizabeth was a committed and lively member of our Company since first joining in October 2006 and was known to most of us as our dedicated and quirky Newsletter Editor since its inaugural edition in June 2013 - coercing numerous contributors and overseeing 60 prolific editions. She was a former Court Assistant and, in particular, a regular attendee at Company Events, both formal and informal, hardly missing a single one.
As Gia Campari summed up, Elizabeth greeted everyone with a cheerful Kiwi "Hello!" and was always smiling, no matter what she was going through. She always had an uplifting effect on all around her and her elegance seemed enviably effortless. Patrick Chapman, with whom she worked on developing our newsletter, similarly recalls her phenomenal support when he was Master coupled to her dogged challenge in relation to issues close to her heart.