Lunch following Common Hall June 2018
Join fellow members after the election of the Sheriffs and other City Officers. Booking is open only to Company Members who are logged in. The || Register Now || button will be visible to the right when bookings can be made

Common Hall at Guildhall - 11am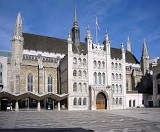 "These are to require you to cause notice to be given to all the liverymen of your company to appear at Guildhall on Monday 25th June, next, for the election of sheriffs and other officers for the year ensuing, annually chosen on Midsummer Day, for which purpose the Lord Mayor will take the chair at 12.00 noon precisely."
Liverymen should contact The Clerk, clerk@wcomc.org, for tickets.

Celebratory Luncheon - 1pm
More details to follow
Members and registered Event Account Holders can click on this Participant Listing link to see who has booked.
Please note that payment for this event will be by Direct Debit.
Dress code is "Business Attire"
June 25th, 2018 11:00 AM to 3:30 PM
Member only event
| | |
| --- | --- |
| Is this a member only event? | Yes |